Millions of people have found the squishy and soothing groove of NeeDoh. From Super to Shaggy, there's a world of Groovy Globs to explore and a NeeDoh for everyone.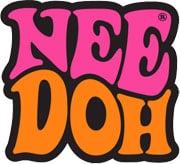 NeeDoh will help you
mellow out!
The Groovy Glob of gratifying goo, this ultimate stress ball will help you mellow out and find inner peace, tranquility and calm mindfulness! Feeling stressed and on edge? You knead NeeDoh. Give it a squeeze, a squish, a pull or a smush. It'll soothe your soul and get you feeling groovy fast!