Schylling Acquires Iconic Ride-on Brand Big Wheel
The acquisition will add to the company's growing portfolio which already includes: Schylling, NeeDoh and Lava Lamp.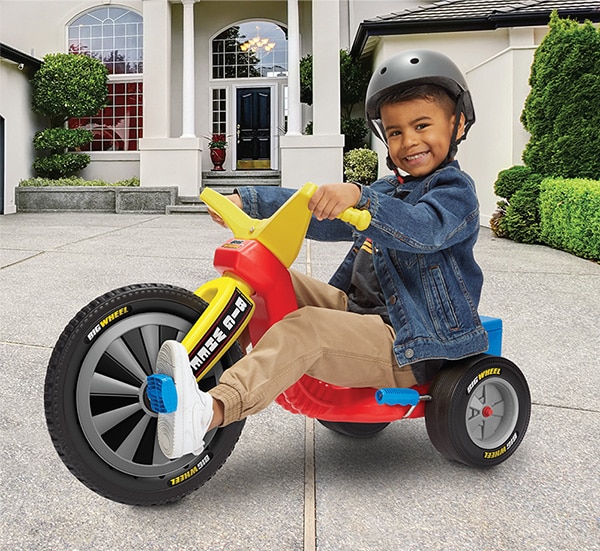 North Andover, MA, September 19, 2022 – Schylling Inc., the growing toy manufacturer, announces the acquisition of US-based iconic brand, Big Wheel. With the acquisition, generations of Big Wheel fans can expect increased brand visibility in 2023 as they move forward with a fresh look, creative marketing campaigns and expanded distribution.
Big Wheel is a global, pop culture icon, known for its signature oversized front wheel, low-rider style, and thrilling spin out capabilities. Complete with two thick back wheels, the design provides stability, keeping the rider safe to test their limits and explore thrills. From the front yard to the local park, Big Wheel boosts riding confidence with the sense of independence and adventure that comes with being a #BigWheelKid.
Big Wheel was first introduced in 1969 when designer Ray Lohr took apart a tricycle, mixed up the parts, and reassembled the bike into an upside-down trike that handled like a race car. Instantly, Big Wheel became a household craze throughout the 1970s and 1980s and nearly every child rode one. This brand's continued popularity led to its induction into the Toy Hall of Fame in 2009.
"Today is an exciting day and the beginning of a new chapter for Schylling. Big Wheel joins an already growing roster of specialty brands under the Schylling umbrella," says Paul Weingard, President and CEO at Schylling Inc. "This is an iconic brand that has captivated fans for more than 50 years and continues to inspire pop culture moments! We are excited for the opportunity to drive forward the Big Wheel narrative and expand distribution through our global footprint."
For announcements and product information follow the Big Wheel social channels: Facebook, Instagram and Twitter.
About Schylling Inc.
For over forty years, Schylling Inc. has specialized in timeless toys. We started out making delightful playthings from a bygone era. Over time we've built a distinctive collection of innovative gifts and traditional toys with nostalgic appeal for all ages. As an award-winning toy company located in North Andover, MA on the beautiful North Shore of Boston, Schylling works to create the future in toys by captivating new designs and intriguing refreshes and innovations of toys from the past. Schylling offers original and distributed lines of toys. Among these lines are the iconic tin toys that have been an important part of the history of the company. Schylling is proud of its heritage and in offering high quality, safe and creative products that lead the toy industry. Visit the company website at www.Schylling.com or Facebook page at www.facebook.com/SchyllingToys
###